About APSA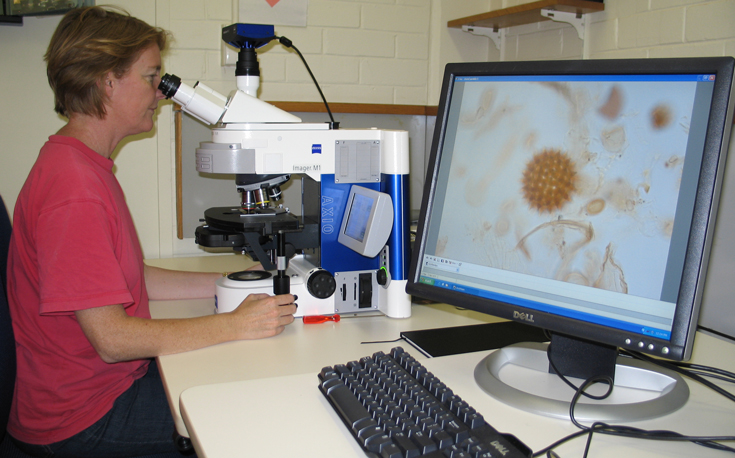 The Australasian Pollen and Spore Atlas website is designed to enable simple online access to the largest collection of pollen and spores information in the Australasian region. The APSA collection is located at the Australian National University in Canberra, Australia. In the future we plan to expand the collection to incorporate a federated system of data acquisition from contributors around the Asia/Pacific region.
Using the APSA website
To make the APSA collection available to the widest range of people we have created a searchable database that is freely accessible over the web and suitable for use by professional as well as the amateur person interested in pollen and spore identification.
The Atlas is a flexible and powerful knowledge management tool applicable to research development by a wide range of users—particularly those within palynology, palaeoecology, archaeology, biology, geology, and the airborne allergy fields. Through an open and free exchange of information we hope to encourage greater collaboration among researchers across a wide range of research areas, creating the potential for new and innovative research.
Pollen and Spore reference collections
For more background and history on pollen and spore reference collections in Australasia please see the APSA collections history page.
Contributions always welcome
The APSA team will gladly accept contributions from other reference collections. We will be making a template available to streamline this process.
Image not available yet?
If we don't have any images for the species you are interested in then please contact us and we will do our best to add a description and image to the collection as soon as possible.
Terms and conditions of use
License
Unless otherwise noted all content on this website (including text, images, video, and any other original works), is licensed under a Creative Commons license.
Citing the Australasian Pollen and Spore Atlas
If you would like to cite the atlas in publications, use this format:
APSA Members* (2007) The Australasian Pollen and Spore Atlas V1.0. Australian National University, Canberra. http://apsa.anu.edu.au/ *See members listed in the About page.
If you would like to cite the APSA user document referred to above, use this format:
Rowe, C . (2006) The Australasian Pollen and Spore Atlas User Document. PalaeoWorks: Australian National University Technical Report 8. p.30.
Acknowledgements
The APSA project has been funded through grants from the ARC e-Research Scheme, ARC Linkage Infrastructure, Equipment and Facilities, ARC Environmental Futures Network, and the Department of Archaeology and Natural History, College of Asia and the Pacific, Australian National University.
The collection is curated within the PalaeoWorks Laboratory in the Department of Archaeology and Natural History. The APSA website and database is hosted by the Research School of Physics.